Len McCluskey 're-elected as Unite general secretary'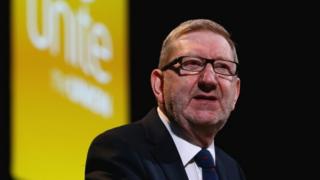 Len McCluskey has been re-elected as Unite's general secretary following a bitter leadership battle, according to sources.
The result will be seen as a boost for Labour leader Jeremy Corbyn.
Mr McCluskey's rival Gerard Coyne was seen as the anti-Corbyn candidate and the union is the party's biggest donor.
Mr Coyne was suspended from his job as a Unite official on Thursday pending an investigation but he remains a member of the union.