NI set for emergency rates legislation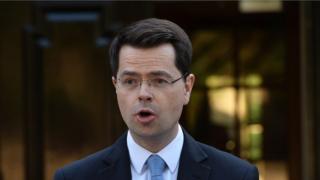 Emergency legislation clearing the way for the collection of rates in Northern Ireland is to be published on Friday.
Secretary of State James Brokenshire had promised to bring forward a bill at Westminster to allow rates bills to be issued.
He is briefing the party leaders on the bill in separate talks at Stormont.
It is one of a number of planned contingency moves to deal with pressures caused by the ongoing political crisis.
Mr Brokenshire is under pressure from nationalist parties angry at the prime minister's decision to call a general election in the middle of the Stormont stalemate: Sinn Féin and the SDLP have been scathing about the snap election.
No change in talks process - Brokenshire
How would election impact NI finances?
General election adds to NI uncertainty
Parties' red lines in Stormont talks
They say it exposes the government's lack of interest in the ongoing negotiations at Stormont, where round-table discussions aimed at restoring power-sharing are due to resume next week.
Sinn Féin's Michelle O'Neill said she believed the "British government would prefer no Assembly to one which opposes Brexit".
The party's Northern leader was speaking after the briefing with the secretary of state.
"I told him the British government have done nothing over the course of last seven weeks to achieve an agreement," she said.
"It's clear that the people of the north who voted to remain in the EU are regarded as saboteurs by Theresa May and her clique of Tory Brexiteers.
"We are no more than collateral damage," she added.
The parties are saying privately that a deal is unlikely against the backdrop of a Westminster poll.
But Mr Brokenshire has said he intends to press ahead with talks between the Stormont parties as well as the British and Irish governments to restore devolution during the election campaign.
If a deal cannot be reached by early May, Mr Brokenshire will have to decide to call another assembly election or pause the process until after the general election.
Meanwhile, it has emerged the SDLP is pushing ahead with its plan to form an anti-Brexit alliance with other parties in the run up to the general election - and is due to hold exploratory talks with the Green party on the issue.
On Wednesday, MPs voted overwhelmingly to back the prime minister's call for a snap general election on 8 June - three years ahead of schedule.
Shadow secretary of state Dave Anderson accused the prime minister of treating the people of Northern Ireland with contempt by calling the snap poll.
He said: "They're being ignored by this government in exactly the same way as they were ignored pre-Brexit when people were saying to them: 'Are you really aware what you're doing?'"