Wrexham bin man Aabid Ali 'wanted to bomb military bases'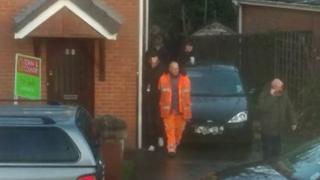 A Wrexham binman who researched explosives on the internet told his wife he wanted to bomb an RAF base, a court has heard.
Aabid Ali - known as Darren Glennon before he converted to Islam - is being sentenced after pleading guilty to three terrorism offences.
Manchester Crown Court was told Ali's wife worked at an army barracks.
Last year he was visited by "prevent officers" over support for so-called Islamic State.
Ali told them he converted to Islam while serving a prison sentence about 20 years ago. He believed in Sharia Law, and the UK military was a "legitimate target".
The court heard that despite being offered assistance by the prevent programme officers in October 2016, "the defendant remained unswerved in his beliefs".
The prevent programme is part of the UK government's counter-terrorism strategy, and tries to identify those at risk from radicalisation.
Downing Street research
Following their intervention, Ali was arrested in November.
The court heard that security at his wife's workplace was heightened.
He had told her he wanted to kill a soldier with a car. He also told her he wanted to bomb an RAF base.
He had researched bomb-making on the internet, as well as travelling to Afghanistan and Pakistan.
He had also researched GCHQ and spying, SAS barracks, IS-related material, executions, and "security arrangements at 10 Downing Street".
Following his arrest he was asked if he had suicidal intentions, to which he replied: "Only as a martyr to Jihad."
Ali, who has a shaved head and ginger goatee beard, is following the proceedings via video link from HMP Chelmsford.
The hearing is continuing.